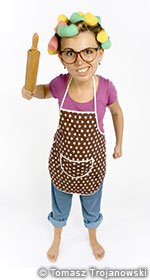 The traditional Greek Mother still exists in spite of changes in Greek society regarding the position and role of women. The traditional Greek Mother still exists and is represented by mothers over 40 years of age.
The Greek Mother Hen
The traditional Greek Mother is like a broody hen who smothers her young in wings of care, love, overprotection and oppression.
She has certain distinctive features which make her unique the world over. Here is a list of her main characteristics:
She makes the best dolmades (stuffed vineleaves) in the world.
She screams hysterically if little Kostas escapes at the seaside and runs into deep water, meaning deeper than the approved 15 centimetres.
She is always right and of course knows better than anybody else what's good for her children.
She carries binoculars to spot the slightest cloud that may threaten bad weather and dresses her children to face polar temperatures.
She has the nose of a hunting dog and is the first to scent cigarette smoke on her teenage son or daughter.
Every week she sends tupperware food parcels to her children who are studying in another city, whether in Greece or abroad.
She calls the police if she hasn't been able to contact her student children for 24 hours.
She teaches her daughter that boys are devils in disguise and should be avoided at all costs.
She warns her son early on that no other woman will love him as much as her, and of course there are lots of artful minxes lying in wait to entrap and marry him, so he should be careful not to get any of them pregnant.
She has a heart attack if her son wants to live in his own home after he's 20.
She has a heart attack, stroke and conniptions combined if her (grown-up) daughter wants to live alone.
She calls in the priest for an exorcism if her children fall in love with a foreigner, according to the quaint saying, "Better a shoe from your own place, even if it's patched".
She digs up grandpa's gun from World War 2 if the prospective bride or groom is not a member of the white race.
If a child remarks that motherly over-protectiveness is a widespread problem in Greece, the Greek Mother replies with the unshakeable argument: "If it's so widespread, then it must be normal".
The children of Greek mothers never grow up, and their mothers will always see them as small and helpless. No matter whether they're 5 or 55 years old, their mother will always worry if they've eaten enough and well, if they're warmly dressed, if they've been ill, if anyone's been mean to them (kindergarten classmate, spouse or mother-in-law).
The Greek Mother may exasperate and infuriate us, but we love her because she's the best mother in the world. We know very well that she'll always be there when we need her and will do anything to help us, forgetting her own needs.